27 Best Photography Books of All Time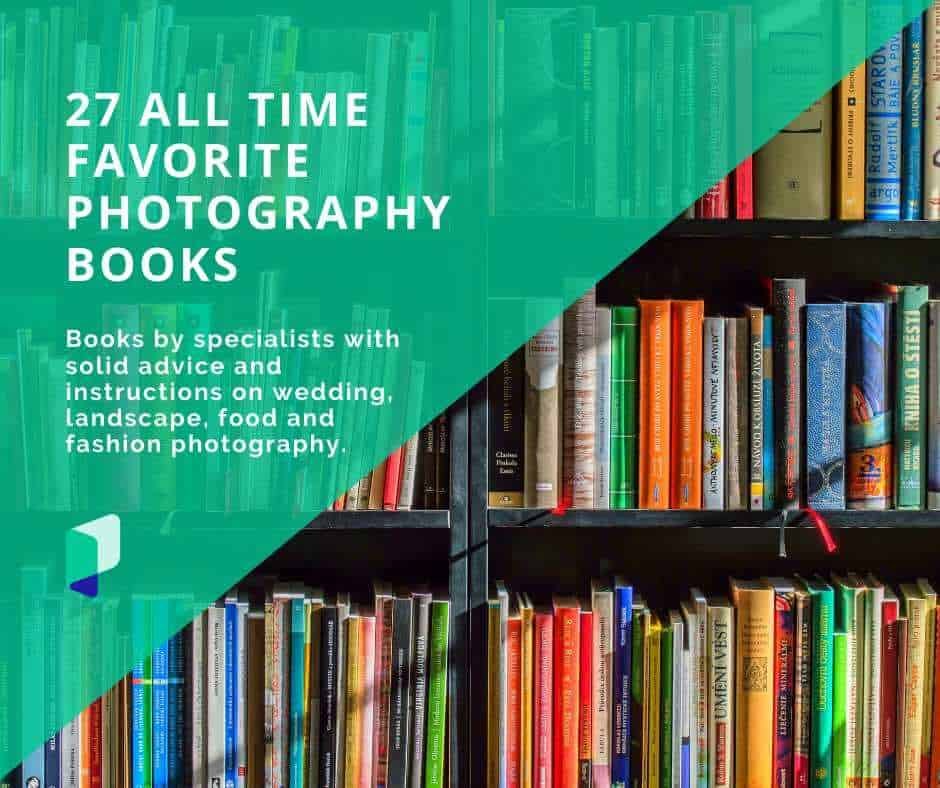 Whether you're a beginning photographer or an established pro, there's always more to learn, so why not study with the masters? Written by experts in the field, the photography books on this list allow you to do just that.
We've chosen our favorite photography books on basic photo skills, all of them presented in a clear, easy-to-use format. And we've included books by specialists with solid advice and instructions on wedding, landscape, food and fashion photography.
Explore 7 Best Photography Audiobooks
If half of the photographer's craft is skill, the other half is inspiration, so we've listed books to jump-start your creativity and challenge you to see in new ways. Finally, photography, like any other art form, can be learned from the careful observation of truly masterful work, so we've included books of photographs by the world's leading photographers.
Select the books on this list that answer the questions you're asking now. Keep them on your bookshelf or tuck them into your camera bag for easy reference. Each of them, in its own way, will improve your work and enhance the pleasure you get from making pictures.
Best Photography Books to Get Inspired
Mastering Digital Cameras: An Illustrated Guidebook for Absolute Beginners (Volume 1) by Al Judge – Published by CreateSpace Independent Publishing Platform, 138 pages.
The first in a three part series, geared to those who are just starting out and need to know how a camera works beyond "point and shoot." Judge writes in layman's terms, and uses 120 charts, illustrations, and photos to take the mystery out of digital photography. This photography book is short but comprehensive, beginning with types of cameras, what to look for when buying a camera, moving on to lenses, the exposure triangle, white balance and color space options. Each chapter ends with a glossary of photography terms used. Al Judge is a professional photographer and author who has published more than a dozen ebooks.
Mastering Digital Cameras: An Illustrated Guidebook for Absolute Beginners
---
Mastering Aperture, Shutter Speed, ISO and Exposure by Al Judge – Published by Subtle Visions Media, 72 pages.
A concise guide, geared to the beginning photographer, covering the basics of ISO, aperture and shutter speed in clear language, with plenty of examples and an illustrated glossary. In the final chapter, Judge puts it all together, explaining why adjusting exposure is so important, incident versus reflected light, and the best way to set exposure. With histograms and examples of the exposure triangle in action.
Mastering Aperture, Shutter Speed, ISO and Exposure
---
Understanding Exposure: How to Shoot Great Photographs with Any Camera by Bryan Peterson –  Published by Amphoto Books, 176 pages.
A newly updated edition of the book, which was originally published in 1990, explains the complexities of exposure, the fundamentals of light, aperture and shutter speed, and explores filters, flash, sharpness, and contrast. Designed for photographers at all levels, it includes a section on special techniques that covers polarizing filters, graduated neutral density filters and multiple exposures. An entire chapter is devoted to the use of flash — using flash for fill light, using colored gels and the danger of becoming a "flashaholic." Bryan Peterson is a professional photographer and founder of The Bryan Peterson School of Photography.
Understanding Exposure: How to Shoot Great Photographs with Any Camera
---
How to Create Stunning Digital Photography by Tony Northrup – Published by Mason Press, 241 pages.
An essential guide for both beginning and advanced photographers, this self-paced course includes more than 12 hours of integrated online training videos, tear-out checklists and a forum for help from the author and other readers. Every chapter ends with practice shoots and quizzes. This photography book covers composition, shutter speed, aperture, ISO, and using flash or natural light and goes into the specifics of shooting pets, wildlife, landscapes, sunrises, and sunsets —even fireworks. More advanced photographers can skip to the chapters on posing, using RAW files and HDR, close-ups, star trails, light painting, electronic shutter triggers and setting up a studio. Tony Northrup is an award-winning photographer, and he has published more than 30 educational books.
How to Create Stunning Digital Photography
---
A Beginners Guide to Adobe Lightroom
Published by Sleeklens, eBook
Lightroom, the popular app for photographers, makes optimizing images easy, but it can be daunting at first. This ebook takes you through the many features in eight easy to understand sections, from installing the app, to navigating the interface, setting up your files and importing images, editing, using brushes and presets and professionalizing your photos with slider effects. The price includes access to more than 20 instructional videos that complement the book. If you've never used Lightroom, or you've tried it and found it overwhelming, this photography book should be on your shelf.
A Beginners Guide to Adobe Lightroom
---
Digital Wedding Photography: Capturing Beautiful Memories by Glen Johnson – Published by John Wiley & Sons, 400 pages.
This comprehensive manual covers everything from equipment and camera settings to the business side of wedding photography. The second part of the book gets into the specifics of shooting weddings: capturing the romance of the moment; shooting indoors versus outdoors; candid shots; documenting the ceremony and jazzing up the reception. A hefty third section covers post-capture image manipulation and product creation, going professional, building a website and the business of destination weddings. An illustrated how-to gallery brings it all together. Glen Johnson is an award-winning professional photographer.
Digital Wedding Photography: Capturing Beautiful Memories
---
Wedding Storyteller, Volume 1: Elevating the Approach to Photographing Wedding Stories by Roberto Valenzuela – Published by Rocky Nook, 384 pages.
Photographer Valenzuela proposes a storyteller's approach to capturing the wedding day. He teaches the craft of building a wedding story in five approaches: photojournalism; interactive shooting; stylized posing; candid shots; and story development. The final chapter is a valuable guide for more advanced shooters, discussing lens choices, helper light, posing patterns, perspective, and how to create multi-layered stories with a single image. He points out that the wedding photographer acts both as director and documentarian of the story, and tells you how to tackle the difficult situations photographers encounter, such as uncooperative grooms, crossing the line between intimacy and privacy and location disputes. Roberto Valenzuela, a photographer based in Beverly Hills, California, is also the author of Picture Perfect Practice and Picture Perfect Posing.
Elevating the Approach to Photographing Wedding Stories
---
Tasty Food Photography by Lindsay – Published by Pinch of Yum, 60+ pages and 30+ video tutorials. Ebook
This book for food shooters begins by covering the basis of aperture, shutter speed, lighting ISO and composition without overwhelming you with details. Later chapters go into the specifics of food photography — all the tips and tricks that make an ordinary image come to life. The editing chapter, enhanced by video tutorials, explains how to use iPhoto, Photoshop and Lightroom as they apply to making a food image so appetizing, you'll want to take a fork to it. In the final chapter, "Workflow," the author shares the five things she wishes she'd known starting out, an essential guide that will save you a lot of time. Lindsay is an amateur cook and food photographer, whose blog, "Pinch of Yum," gets more than 70,000 views a day.
---
Plate to Pixel: Digital Food Photography & Styling by Helene Dujardin – Published by John Wiley & Sons, 288 pages.
A great introduction to food photography for foodies, bloggers and professional shooters, illustrated with case studies of great versus not so great photographs. The book begins with the basics as they apply specifically to food, from camera settings and equipment, to the intricacies of lighting and composing shots. The styling section offers tips for making every dish look appetising with specific advice for shooting meats and fish, fruits and veggies, stews, burgers, beverages, desserts, and ice cream. The tools section is a helpful guide to creating a styling kit with spray bottles, paper towels, cotton swabs and paint brushes. And the post-capture chapters discuss editing, correcting, adding effects and file sharing. Useful appendices include a glossary and lists of equipment and resources. Helene Dujardin is a professional food photographer and stylist, blogger and former chef. She has shot images for numerous cookbooks and magazine articles.
Plate to Pixel: Digital Food Photography & Styling
---
Loving Landscapes by Sarah and Todd Sisson – Published by Digital Photography School, 207 pages. eBook
Capturing a magnificent landscape can be one of the toughest, and most frustrating challenges a photographer faces. With more than 200 beautifully designed, photo-filled pages, this photography book takes you through the process, from image capture to optimization and file management using Photoshop or Lightroom. Chapters include detailed, easy to follow information on camera settings, exposure blending techniques, single and multi-exposure workflow and more, with supporting RAW images and ten Lightroom presets. New Zealand photographers Sarah and Todd Sisson have concentrated exclusively on landscape work since 2007.
---
The Enthusiast's Guide to Travel Photography: 55 Photographic Principles You Need to Know by Jordana Wright – Published by Rocky Nook, 237 pages.
A manual on how to think like a visual storyteller, become a truthful observer and go beyond the postcard to portray the essence of a place. The author gives specific advice on capturing sea, mountain, desert and forest landscapes, finding texture and patterns in details and capturing the human element and lifestyle. In her chapter on urban photography, she discusses shooting from a window, night shoots, public interiors and capturing the city's energy. Importantly, she talks about the photographer's rights abroad and legal, ethical and cultural considerations. Jordana Wright has presented two TEDx Talks, led photowalks across the United States, and been published in such outlets as the New York Times.
55 Photographic Principles You Need to Know
---
The Headshot: The Secrets to Creating Amazing Headshot Portraits by Peter Hurley – Published by New Riders, 240 pages.
A highly successful photographer shares his approach to headshots, from the technical aspects of lighting, background, camera settings and lighting to developing a rapport with your subject, finding the most flattering positions and eliciting natural expressions. Hurley refers to his personal style as the "Hurley System," which includes elongating the body, relaxing the head, bringing the forehead forward, getting the face moving and optimizing hair and clothing choices. Peter Hurley specializes in corporate, advertising and commercial photography, including portraiture, fashion, beauty, editorial, headshots, and events. His clients have included Levi's, Reebok, DKNY and Johnnie Walker.
The Headshot: The Secrets to Creating Amazing Headshot Portraits
---
The Photographer's Guide to Posing: Techniques to Flatter Everyone by Lindsay Adler – Published by Rocky Nook, 452 pages.
No matter how perfect your light, camera settings and composition, if the pose is wrong, you won't get a good portrait. Adler's book is a guide to how the camera sees, and how to use angle, lenses, and perspective to get great shots of men, women, children, and groups. Beginning with a base pose, she moves on to a variety of "go-to" poses, and solves problems such as hand placement, expression, and posture. Each chapter ends with exercises to train the eye. Fashion photographer Lindsay Adler has published work in such magazines as Marie Claire, InStyle, and Elle and shot advertising for Canon, Adobe, and Microsoft.
The Photographer's Guide to Posing: Techniques to Flatter Everyone
---
The Complete Portrait Manual: 200+ Tips and Techniques for Shooting Perfect Photos of People by the Editors of Popular Photography Magazine – Published by Weldon Owen, 208 pages.
A comprehensive guide with 288 short chapters covering everything from the basics of using your equipment to the specifics of working with subjects, layering patterns, shooting pets, kids, sports and selfies, multiple exposures and retouching. Richly illustrated, the book is perfect for the amateur photographer who wants to take his portraits to the next level. Popular Photography Magazine, a how-to for photographers, has been in publication for more than 70 years, with more than two million monthly readers.
200+ Tips and Techniques for Shooting Perfect Photos of People
---
Fashion and Lifestyle Photography by Dixie Dixon – Published by Ilex Press, 192 pages.
Drawing from her experience as a speaker at photography conferences, author Dixie Dixon writes in an entertaining, accessible style to deliver a how-to book taking the photographer from concept, to prep, to the shoot and delivery of a finished product. She begins the book with the basics of equipment and techniques, and discusses the journey to finding a personal visual vocabulary. "Shoot a lot!" she writes, "Always be shooting. The more you use creativity, the more you get. It's not something that can be used up." She offers practical tips on packing your camera bag, traveling with gear, using color to elicit emotional reactions, using mood boards, scouting locations, casting and building a brand. Award-winning photographer Dixie Dixon, a Nikon brand ambassador, has shot for clients such as Disney, Virgin, and MAC and has been published in Rangefinder, PDN, Professional Photographers Magazine and Nikon World among others.
Fashion and Lifestyle Photography
---
Extraordinary Everyday Photography: Awaken Your Vision to Create Stunning Images Wherever You Are by Brenda Tharp Jed Manwaring – Published by Amphoto books, 160 pages.
This book does a good job of inspiring photographers to take a better look at the world around them, whether traveling or at home. Discussions and exercises cover composition, available light, color, and point of view, but the book goes beyond that, guiding the photographer to really see, rather than merely looking. "Focus on, or frame, the things you see around you so they become photos in your mind's eye," they write. "The more you do this, the more your vision will develop …" Chapters on shooting at dusk, dawn and at night are especially useful. Richly illustrated with the authors' photos, Brenda Tharp and Jed Mawaring are professional photographers and authors who lead photographer workshops in the USA.
Awaken Your Vision to Create Stunning Images Wherever You Are
---
Studio Anywhere: A Photographer's Guide to Shooting in Unconventional Locations by Nick Fancher – Published by Peachpit, 263 pages.
In this guide to shooting studio photos with minimal equipment in less than ideal locations, the author shows you how to set up a makeshift studio in your office, living room, garage, or basement — even on the street or in the park. He gives specific lighting and background tips for each improvised studio and describes his post-capture Lightroom and Photoshop workflow. By sharing the aesthetic decisions that have led him to his signature style, he inspires the reader to develop a personal vision. The Kindle version is more expensive than the paperback, but it allows you to take notes and search in the book. Illustrated with Fancher's professional photos shot outside the formal studio environment. Photographer Nick Fancher specializes in dramatic lighting, often using bold colors and experimental camera techniques. He is also the author of Studio Anywhere 2: Hard Light and Chroma.
Studio Anywhere: A Photographer's Guide to Shooting in Unconventional Locations
---
Advancing Your Photography: Secrets to Amazing Photos from the Masters by Mark Silber – Published by Mango, 255 pages.
This handbook, formatted to fit in a camera bag, is the result of years of interviewing photographers and distilling their tips, which are sprinkled through the pages. Each chapter includes practical exercises that encourage you to use what you learn. Silber goes through the usual basics of camera settings, light, composition and digital optimization but he also includes chapters on training your eye, imagining your photos in a new way, and the special challenges of portrait, sports, wedding, and landscape photography. Mark Silber studied at the San Francisco Art Institute, He hosts the YouTube show "Advancing Your Photography."
Advancing Your Photography: Secrets to Amazing Photos from the Masters
---
Learning to See Creatively, Third Edition: Design, Color, and Composition in Photography by Bryan Peterson – Published by Amphoto Books, 160 pages.
A more advanced text by the author of Understanding Exposure, this is a useful guide for shooters who have already mastered the basics and who subscribe to Peterson's premise that creativity is not an inherent talent, but a learned skill. He provides insights on avoiding visual pitfalls that can lead to boring images, with an emphasis on expanding your way of seeing. The book explains human versus camera vision, the elements of design that make an image striking, the basics of composition and using Photoshop to enhance your pictures. Illustrated with images from the author's archive. Bryan Peterson is a professional photographer and founder of The Bryan Peterson School of Photography.
Design, Color, and Composition in Photography
---
The Art of Photography: A Personal Approach to Artistic Expression by Bruce Barnbaum – Published by Rocky Nook, 369 pages.
In this revised edition of this classic textbook, first published in 1994, the author covers the technical aspects of both traditional and digital photography, then delves into the artistic approach to shooting vivid mages. He talks about using light and color, contrast, tone, and form and discusses creativity as applied to photography. His advice and instructions on making prints are worth the price of the book. Illustrated with more than 100 photographs, plus charts graphs and tables. Bruce Barnbaum's work is represented by galleries in the United States and Europe, and in the collections of museums worldwide.
The Art of Photography: A Personal Approach to Artistic Expression
---
The Photographer's Eye, A Graphic Guide by Michael Freeman – Published by Ilex Press, 194 pages.

This accessible handbook explains composition in simple terms with a minimum of text and ample illustrations. It takes you beyond the basics of how to use your camera to the visual mechanics of an image. Sections teach you how to get the best shots by learning to compose the image you see in your viewfinder. You'll learn to see the graphics of a photo, the way elements relate to each other, and the lines that lead the eye to the main subject of your image, as well as the various ways you can use framing, placement, motion, color, and juxtaposition to create images that grab the viewer's attention. Photographer Michael Freeman specializes in travel, architecture and Asian art. He shoots for Smithsonian Magazine, Time Life Books and Reader's Digest, and has published more than 40 photography books.
The Photographer's Eye, A Graphic Guide
---
The Camera by Ansel Adams with contributions by Robert Baker
Published by Hachette Book Group, 224 pages.
A giant of 20th-century photography, Ansel Adams produced spectacular images of the American wilderness. This book, originally published in 1980, four years before his death, is the first in his series on photographic techniques. It has become a classic manual with more than one million copies sold. In 1939, while working at the Art Center School in Los Angeles with fellow photographer Fred Archer, Adams developed a unique Zone System of exposure, which is still used in today's digital age The method precisely configures a way in which a photographer can visualize an image, going beyond the light meter to render light objects as light and dark objects as dark. Additionally, the book covers 35mm, medium-format, and large-format view cameras, lenses, shutters, and light meters. Illustrated with photographs and line drawings.
---
Genesis by Sebastião Salgado – Published by Taschen, 520 pages.
One of the greatest living photographers, Salgado is revered for his breathtaking images of workers and landscapes in developing countries. Although this book is not a manual, it should be studied by serious photographers in the same way that a painter studies Rembrandt or Raphael. "I don't believe a person has a style," he writes. "What people have is a way of photographing what is inside them. What is there comes out." And "…if you give the same camera to two different people and ask them to shoot the same scene, something different will always emerge. Personality seeps into the mechanism." The images in the book were photographed over an eight-year expedition by foot, light aircraft, canoe and even balloon, to discover the 46 percent of the world that remains the same as it was at the time of Genesis. The works have also been curated as an exhibition that has traveled to museums worldwide. Also look for Salgado's books Migration and Workers.
---
Annie Leibovitz at Work by Annie Leibovitz – Published by Phaidon Press, 256 pages.
Leibovitz is known for the iconic celebrity portraits she's shot for Vanity Fair and Rolling Stone. In this book, she shares what photographers do, describing her approaches to photojournalism, studio work and photographing bodies in motion, and describes her transition from film to digital cameras. Her behind the scenes stories are both fascinating and instructive. She says she captures her famous portraits by "placing my subjects in the middle of an idea."Although this is not a technical guide, her advice to professionals and descriptions of the equipment she uses will be helpful to any photographer.
---
Henri Cartier-Bresson: The Decisive Moment – Published by Steidl, 160 pages.
Arguably the most influential photography book of all time, a true work of art, the volume, originally published in 1952, has recently been reprinted. With a cover by the great artist Henri Matisse, it's a collection of the best of Cartier-Bresson's early work, which defined modern photojournalism. The title refers to the unstaged instant when all elements combine in the frame to create a perfect image. Cartier-Bresson said that " Photographing, for me, is instant drawing, and the secret is to forget you are carrying a camera." His photographs capture subjects as they are, not as they present themselves, in the decisive moment when all artifice is stripped away. This new edition includes a booklet on the history of The Decisive Moment by Centre Pompidou curator Clément Chéroux. This is an investment you'll refer to time and again. Henri Cartier-Bresson (1908–2004) was born in Chantelou-en-Brie, France, and began photographing in the 1930s. In 1947, he was among the founders of the legendary Magnum Agency.
Henri Cartier-Bresson: The Decisive Moment
---
Magnum Contact Sheets by Kristen Lubben – Published by Thames & Hudson, 524 pages.
Back in the pre-digital days, photographers made contact sheets, miniature versions of all the images on a roll of film. Then, looking through a magnifying loupe, they'd circle the few worth printing. Most photographers were unwilling to share these unedited sheets because they were full of rejects. Typically only two or three images would make the grade and nobody wants to display their mistakes. But they are a priceless peek into what great photographers thought were their best shots, and the alternatives they tried in order to get them. The book is groundbreaking because it reveals the creativity behind some of the most iconic images of the 20th century, with 139 contact sheets, representing 69 photographers, as well as zoom-in details, selected photographs, press cards, notebooks, and spreads from publications of the day, Most instructive are the photographers' own notes, or texts provided by the executors of their estates. Magnum Photos is an international photographic cooperative owned by its members, including the world's most respected photojournalists such as Steve McCurry, Elliott Erwitt, Mary Ellen Mark and Robert Capa. Author Kristen Lubben is the Associate Curator at the International Center of Photography in New York.
---
1001 Photographs: You Must See Before You Die by Fred RitchinPaul Lowe – Published by Cassell Illustrated, 448 pages.
This essential reference book is a comprehensive history of great photography from it's beginning in the 1820s to the 2010s. Every image is accompanied by the author's insightful remarks and entertaining explanations. Many of the images are iconic, and it's fascinating to read the story behind them and to learn about their aesthetic and historic significance. Award-winning photographer Paul Lowe's work has appeared in Time, Newsweek, Life, The Sunday Times Magazine, the Independent, and the Observer. He is Course Director of the MA in Photojournalism and Documentary Photography at the London College of Communication, University of the Arts London.